In this video the basic principles of website marketing content are discussed in a small/local business context. The business who wants a competitive edge will develop a strategy to establish a meaningful dialouge with the audience. You can create something valuable and demonstrative by drawing on the needs and wants of these customers.
Your website is a marketing tool.
It is the nucleus of your business, the center of attention. It's a spring board that can be loaded with valuable information for people to consume and share. This simple trust build exercise prompts them to make purchase decisions and becoming genuine fans.
A Website is Not a Newspaper Ad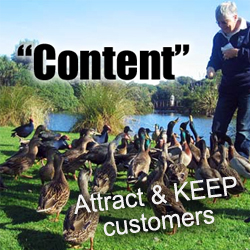 Newspaper ads broadcast at people, which is advertising.
A website is all about marketing; to people.
Granted, the line between advertising and marketing has become increasingly ambiguous.
Good written, visual or video content is meant to connect with customers in a meaningful way. Switch on the TV or radio and you'll see it is crammed full of advertisers who are shouting at you and begging you to buy their products.
Avoid becoming part of the same noise. Don't let your website be a low quality cry for attention. Don't be another annoying advert.
Understand that your website is a way to adopt a slower paced courtship process in which the sale is made from building trust and mutual respect. Creating great information and useful content saves you from having to repeat yourself on the phone or in person.
Content Marketing is Low Cost, Low Risk
A small biz can be flexible, experimental and innovative. There are no shareholders, directors or executives who need to be convinced before allowing you to try some new marketing angle. You do not need to have a meeting every few days to discuss something that could have been implemented and tested within hours. Give yourself permission to be creative. There is no huge financial liability in doing so.
Connect with People
Small or local businesses can take advantage of social networking tools like Facebook, Twitter, YouTube, Google Plus and Pinterest to connect with people in a psychological space that builds visibility, familiarity and a great reputation. YouTube is particularly recommended because it is part of Google Plus.
At minimal cost it is possible to become useful, educational, informative, interesting, problem solving and compelling. Deliver good content which presses those buttons and you will be on your way to building a reputable brand that stands out in a particular local area.
Don't Obsess Over Search Engines
Do not let what doesn't matter as much be at the mercy of what matters most. People matter most.
Think of search engine traffic as bonus traffic. Google moves the goal posts so often that it is not worth pursuing short term traffic using manipulative tactics. Lazy marketers will always try to take shortcuts by exploiting loop holes that Google will close as soon as it catches up.
If you want to play a game of cops and robbers with Google, that is up to you, but the real progress is made when you invest time doing your best to please people.
"The Best Marketing is Education"
– Steve Jobs of Apple, 1991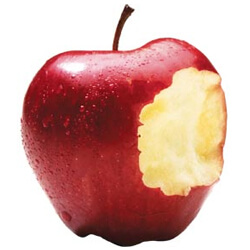 Educate your customers. Show people who you are.
Prove you are good at what you do.
Dangle a carrot. Let them have a free sample. Offer a complimentary bite or taste of your business.
Give customers a teaser, but always leave them hungry.
 Quick Tips
The long term view shortens the short view
It's easier to please people than it is to please Google
Don't talk at people, talk to them
People prefer to buy than be sold
If you do use newspaper/magazine ads, use this as an opportunity to chaperone people towards your useful web content
Use YouTube (there are lots of ways to go about this)
Develop creative strategies