The design brief for Ange Lord's website was to build and market the brand from scratch, while coming up with logistical solutions for customers to place enquiries/orders.
We considered creating an eCommerce store, but went against the idea as it might have been too restrictive. The reason for this is that individual prices would need to be quoted based on project criteria submitted by customers. This was not a shop selling "off-the-peg", but was a collaboration between the business and the client.
WordPress Fulfills All the Needs
WordPress was chosen as the system of choice to build the website, with the popular free plugin "Contact Form 7" used to build individual customer enquiry forms for each of the services Ange provides.
To clarify: rather than taking all enquiries through one generic contact form, the creation of a specialist form for each service would get the customer to provide most of the correct project criteria in the first instance.
Each enquiry form was preceded by detailed information (frequently asked questions) about the services, so that there would be less back and forth over email. This is to free up the business owner's time to focus on getting the work done.
The forms are sent by email to [email protected] which is better than using her AOL account she had used previously to conduct business.
It not only looks more professional to use a top level domain email, but is required as part of the WordPress configuration to ensure emails are sent from the web forms to the mailbox via SMTP.
Securing the Site with a SSL/TLS Certificate
It's worth noting too, https was added to the site using a free Let's Encrypt TLS certificate which came as part of Ange's Dreamhost shared hosting package.
Although this site does not take payments online, or process any payment details, https is recommended for all sites, as recommended by Google. The Chrome browser labels http sites as "Not Secure".
I always recommend Dreamhost since it if the best value for money and offers features that other webhosts charge for individually (including email).
WordPress Blogs
We've yet to add the WordPress blog feed, but that will come at a later date when Ange feels she has something to write about. Once she's ready we'll be adding the "Blog" link to the primary navigation bar, as well as customising her author byline and photo which will display beneath all published blogs.
Writing blog content keeps a website fresh, current, and provides linkable/shareable/crawlable assets for search engines and social media. It spreads the message.
AggregateBlogs to Social Media and Mailing Lists
The great thing about WordPress blogs is they can are published so something called website RSS feed. This feed can be subscribed to, or it can be aggregated so that it automatically publishes blog posts on social media timelines.
This feed can also be linked to her MailChimp email newsletter, so that anyone subscribed to her list receives an email. In other words, when she publishes a new blog post on her website, MailChimp sends an email summary of the post content with a link back to the post.
Telling the Story
The branding of this website is based entirely upon Ange herself. Marketing for an individual involves telling a person's story and creating trust through transparent, well written, detailed content.
We knew it would be important to have pictures of her on the website to help communicate a greater sense of personality. This approach helps set expectations in the minds of the customers.
The logo was decided upon quickly, using a freely downloaded copyright-free typeface.
It resembles brush strokes – or pen and ink – to represent a personality, almost like an artist's signature.

No Ordinary "About Me" Page
Since she creates a lot of superhero themed products, we used the phrase "Origin story" instead of "About Me" when coming up with Ange's personal profile.
A website About page helps differentiate a business and help answer the question of "why do business with this person?" which is always in the mind of someone who is unsure. In a market where many products/services are basically the same, compelling personal details about the business owner can make a big difference.
Thankfully, Ange has a pretty unique value proposition. The aim is to create an army of raving fans who promote and market the site. It's shareable stuff.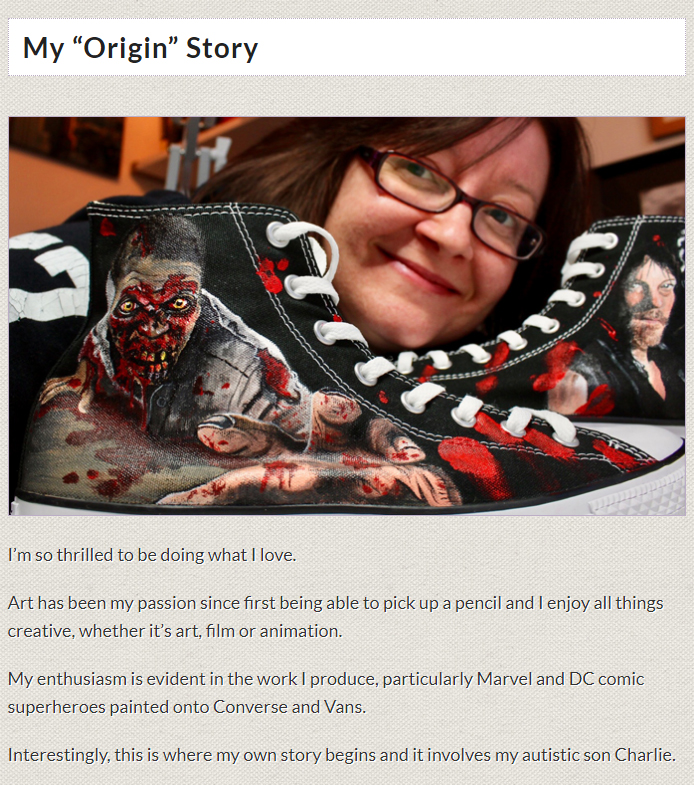 Many businesses approach branding with a view to trying to impress and appear successful, which today's sophisticated consumers tend to see right through. Here was an opportunity to do just the opposite, knowing it would resonate with the customer and drive the sales.
Local Press Coverage
Ange had actually appeared on BBC Radio Derby and talked about her work, as well as being written about in the local press. At the time, she had no website address, which is a shame, because this would have driven traffic to the URL, even if there was finished website in place. We could have put up a holding page with an email list opt in to her newsletter.
We added links to the press that had written about her, since this is shows the customers she was worthy of coverage in the newspapers.
I mentioned contacting Ilkeston Life and Erewash Sound to Ange, now that she has a website she can advertise. This will drive traffic.
An Informal Audio Discussion
We discussed the possibility of obtaining the recording of the BBC Radio interview she did with the host Sally Pepper, but were unable to do so. This would have made good content for the site.
We did the next best thing, which was to set up Skype and use it to record an informal conversation between ourselves.
This was uploaded to Soundcloud (they allow users to upload audio up to 180 minutes for free) then embedded on the site, with customisations to the colour of the Soundcloud button (purple) to match the style guide of the rest of the site.
Ange's audio file was only 20 minutes, so she could add more recording to her Soundcloud profile for free, in the future, if she wanted to.
Listen on Soundcloud (opens in new tab/window)
Summary
The site progressed well, with galleries of watermarked work added. YouTube video playlists were embedded on appropriate pages and external links to social media profiles and Etsy were added.
Advice about regular backups of the WordPress database was given through a live demonstration which was also supplied later on as a recorded video.
The big takeaway for building sites that market small businesses is to build trust. Whether you're a team or work alone, give prospective clientele the chance to know you and to like you. Put the time and effort into the creation of content, because it will pay dividends when done well.
It was a pleasure working with you Ange!