1. Ensure URLs are meaningful & user-friendly
Page URLs, also known as the web page address, must be kept short.
Words in the URL should be separated by a hyphen. Unnecessary words and conjunctions should be subtracted.

Ensure that URLs are always consistent (www.website.com or website.com)
2. Add canonical tags to all pages
The canonical tag tells Google how to display the URL of any given in search engine results pages (SERPs).
For example, the canonical URL can be set inside the WordPress page settings:

And it looks like this in the search results:

I could get rid of the www from the canonical if I wanted:

Which would instead look like this in the search results:

3. Add any 301 redirects for shorter URLs
Sometimes, it's helpful to give your customers an easy-to-remember link.
You might be talking to someone on the phone or in person who needs to be able to write down what you're telling them.
For example, the following (long) link goes to a specific Google webpage for reading and writing Ilkeston Web Design reviews:
https://search.google.com/local/writereview?placeid=ChIJR-QanQnseUgRRFBCdtiwmnU
That's too long though.
So I set up a shorter URL which redirects to the above link: 
ilkestonwebdesign.com/google
That is where redirects provide invaluable. Both links end up on the same page but the second one is desirable.
A short link can point to anything you want, not just Google reviews, as shown in the video below:
4. Cross-browser optimisation
The site needs to look the same across all browsers. There's quite a few to take into account.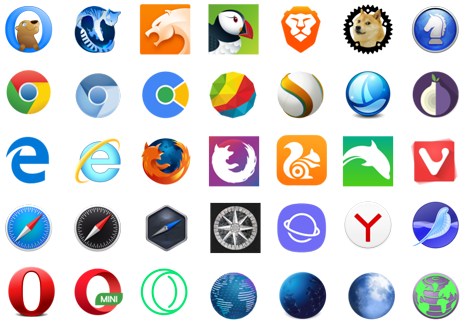 Internet Explorer is the worst and web designers hate it! Thankfully fewer people use it today but you cannot totally ignore it.
5. Create custom 404 error page
Do you know what a broken link is? It refers to someone clicking a link on a website, expecting to load a particular page, but alas! the page has either been removed or has had the URL changed.
What you want for these situations is a so-called 404 page.
This is a page telling the website visitor what has happened and offering a solution to the problem.
Here's my 404 page:
6. Check that visitors receive confirmation after every action
Whether it's sending an email using a contact form or subscribing to an email subscription list, the website always needs to tell the visitor if they were successful.
This is particularly important for eCommerce sites, where there should be instructions and comments before and after tasks.
(X)HTML validation & optimisation
7. CSS validation & optimisation
CSS is the code used to make things look the way they look on the site. This code can be condensed (minified) so it loads faster.
JavaScript validation & optimisation
Optimize the site for graceful degradation
8. Optimize image format, dimensions & file size
At this stage, images may need to be tweaked to improve load speed. Images that are too big in their dimensions will add unnecessary loading time.
I might swap JPEG images for PNG images depending on the background colours on the site.
If that sounds like technobabble (well I suppose it is technobabble), the video below visually demonstrates the significance of what I'm babbling about:
Protections & .htaccess functions (anti-spam, compression, caching, anti-hotlinks, etc.)
Further website security (database, cgi-bin, etc.)
---
New Website Guide
Menu