This is the stage where I'll work out how much work needs to be done, how long it'll take and what it's going to cost.
Before you discuss it with me, read through sections below, as this will raise a few points you may or may not have already considered.
If you're starting a new enterprise, the website could actually make a big difference to your business model. 
If you're an established business, the website could be so integral that it leads you to change some of your operations: for example, an online booking system could mean you're on the phone less and using email more.
1. Confirmation of site objectives (corporate, marketing, etc.)
This is the stage where you decide what the main business objectives are, and how the website will serve those objectives.
You may be juggling several potential ideas, possibly agonising over one thing or another or even deciding to wait a while to do more market research.
I'll help you come up with a short written summary of what the website is actually for.
2. Choose business model & marketing plan
If you've already decided exactly how your business makes money, that's great.
Some business sell products from their own stock, while others have an arrangement with a supplier.
Some businesses sell their time and knowledge as a service provider or consultant, while others are wanting to become agents for others' businesses.
However you make them money, it is important we discuss it as this will affect the purpose of the website and how it is set up.
3. Plan interactions, technologies & functionalities
Selling online? You'll be needing the means by which to accept payments from cards and systems like PayPal and Apple Pay.
Do you want people to email you through the site? You'll probably need an email server or email forwarder so you can have something like info@yourwebsite.com.
An email contact form is a popular choice too, but you might want to have this modified into an order form.
There are many ways a website user interacts with the site, and this would be the discussion we would need to have.
4. Choose content management system (if needed)
What the bloody hell is a content management system?
It is a type of website which gives you a username and password with which to log in to an online dashboard, with options to create new pages, upload pictures, add extra tools etc.
It is much easier than creating websites the old-fashioned way – if you can call it old-fashioned – which involved writing lots of lines of code till 3am and getting a big headache.
I propose you use something called WordPress which can be found at WordPress.org.
You may or may not have heard of it, but it's honestly the easiest, most popular, most widely used and supported website building system in the world and has legions of fans and developers and geeks all singing its praises.
In fact, Ilkeston Web Design is built using WordPress.
WordPress websites are built off the back of a basic template, which can be customised to your heart's desire.
I would help you chose a template (called a theme) and then start taking it apart and putting it back together like it's a Lego Technic project.
If you want to be actively involved in the running of your WordPress once it's set up, you can do that, with a little tuition and coaching from me, or if you prefer, you can commission me to look after it on a monthly basis (such as backing up data, making changes and keeping software up to date).
You can learn it by yourself by taking free online courses, or even taking part in a free WordPress social club I hope to set up in Derby and/or Nottingham.
WordPress is a good horse to back.
5. Choose data delivery model
Data delivery means how the website visitors actually access your webpages. These considerations will affect the complexity of the project and therefore the cost to you.
You see, some websites hide content behind a "paywall", meaning a visitor has to pay or be a customer to get access to parts of the website.

A paywall could be used to restrict access to something that can be downloaded, like an eBook, video tutorial or booking system for classes or consultation.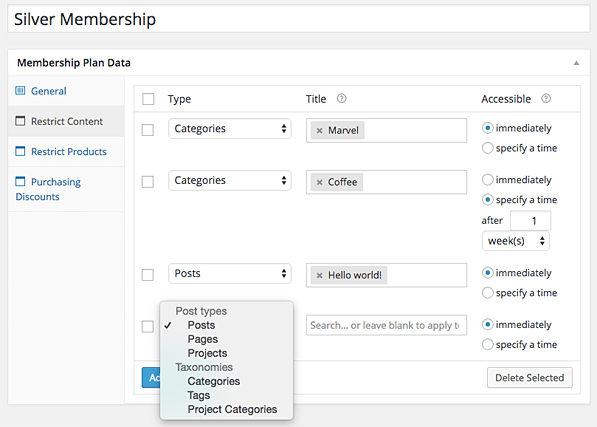 You can also have visitors sign up as free members. 
The chances are that you'll allow free access to all your pages but it depends on your business model and what you're trying to achieve.
For the most part, free access is the norm and best route for service type businesses wanting to promote what they do.
A freely accessed website needs no membership system and is a simpler project that costs less.
6. Roles and responsibilities & initial timeframe
Together we must decide who does what during the project. You're going to need to supply key information about your business whether it's for public consumption or whether it's for the logistical side of things (think merchant account details for credit card processing).
In most cases, I can supply private, pre-recorded YouTube videos which I will email to you if there's something difficult or complicated you need me to explain.
We can also talk on the phone while sharing our computer screens with one another over the internet. This is hugely helpful, a big time-saver and costs nothing.
Then there's the written content. Everyone's favourite part(!)
I can coach you on coming up with content to help you communicate and show yourself in your best light.
I can even write the content for you if you really don't want to do it.
We could have an arrangement where you write the content and I add to and edit it. This is common.
Note: content is perhaps the toughest part of the project and is typically the number one reason the website gets held up – waiting for the client to deliver their written and visual content.
Final payment will be due on an agreed date.
7. Quote submission
Once we both understand what needs to be done and how much work is involved, a figure of at least £500 will be submitted.
Please read the rest of this guide to understand how this sum will be calculated.
8. Project validation, contract agreement & deposit paid
You'll be asked to read, agree to and sign a contract agreement which will specify the timeframe of the project and the overall cost.
You'll also be asked to pay a deposit of 30% of the overall cost.
If during the project circumstances change, and significantly more work is requested, this will be calculated and charged for additionally, which means the overall cost will increase.
---
New Website Guide
Menu