Hate writing? Not got many photos? Don't worry.
I've worked with people who cried blue murder and swore they cannot come up with, write or say anything interesting, yet they've ended up with compelling websites because of the way the words and pictures (and often, video) have come together.
A few points:
Potential customers care about knowing who they are dealing with.
You are much more interesting than you realise.
I will drag it out of you.
For the main pages, aim to have a good 500 words for each page. Why? 
Google doesn't like thin pages. 
1. Review content providers (copy-writers, graphic designers)
So, who is going to provide the content? You? Me? Staff, employees? It could be a combination of everyone making a contribution.
Content includes words and images, many of which will come primarily from the stakeholders in the business. If you're self-employed, then that is you, the owner.
I can help you write your content, which will involve talking with you and taking notes, kind of like the way a biographer does with his or her biographee. 
One way to get good notes is to have a conversation, record it as audio and transcribe this into a set written points. Make sense? The recording can be deleted.
2. Sharing/sending content to one another
Since we are likely to be sharing images and word documents with one another, an effective and practical method of accessing these files would be to use Google Drive or DropBox. 
Both Google Drive and DropBox are free. DropBox offers 2GB storage. Google Drive offers 50GB storage which is handy if you need to store or send a lot of high-resolution videos.
3. Text creation & art creation (photos, illustrations, etc.)
Blank documents pertaining to each web page will be created and filled with bulleted notes.
These notes will be used to create coherent, useful, interesting, informative text that is spaced and formatted appropriately.
Headings and subheadings help break up a wall of text into manageable, consumable sections that do not baffle or bore.
These documents can and should be copied to a shared DropBox or Google Drive for ease of access.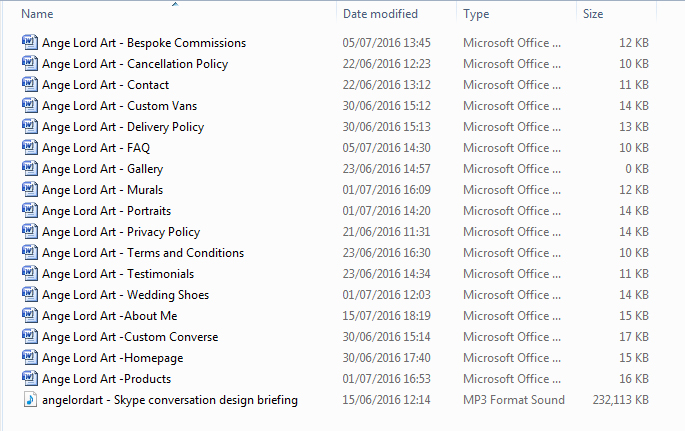 It's also wise to set up image templates using correct dimensions. Image file names should be labelled in a meaningful way and use a naming convention for the sake of clarity.
If you don't have an image ready for a particular webpage, a placeholder image can be created and edited later.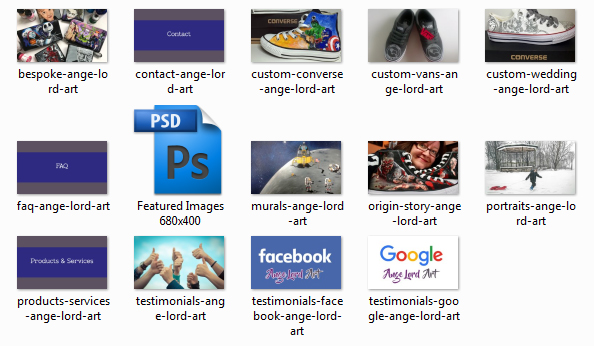 The video below explains good practice when preparing photos/graphics/images for a website:
4. Add rich media content (Video, Audio etc.)
If, for example, you're wanting to add video and audio, a YouTube account and a Soundcloud account would be set up by me on your behalf, so the media could be eventually uploaded to these sites and subsequently embedded in webpages on your site.
For YouTube you'll first need a Google account.
5. Home page
The home-page can be described as a summary of the information on the site, rather like the contents page of a magazine. The text and images used on the front page will be repurposed and reworded from elsewhere on the site.
Provide a call to action for every page (avoid dead ends)
6. About page (with author(s), staff, business information)
The about page is more important than you might realise. This is where the business should reveal the individuals running the show.
What I'm urging you to do is step forward and let people know you're a person too, and that you care enough to put together a good website that sets accurate expectations.
Are you a family-run business, for example? That's great!
Family-run businesses often have excellent, caring staff, because it's an investment in their own future.
Chain stores, by comparison, are often staffed by students, part-timers or individuals who are dead inside (sorry if I've offended anyone – I'm generalising to make a point).
Be warned, this isn't about bragging or droning on in that bloody awful corporate tone of voice which is out of favour yet so prevalent.
Honestly, some of the drivel you see on some websites is only there to fill up space. Be better than that!
I urge you to take a look at the about page for Ilkeston-based artist Ange Lord. She is such a nice, talented lady with such an interesting story. It was actually easy for us to create this page together.
We also recorded some audio and published it the about page: 
7. Location service page
Assuming you target a locale, you could create specific pages about such locations. Don't be tempted to just stuff a bunch of location keywords on the page and call it a day.
You'd be better off picking at least one primary location and creating a page about it. I would help you to get thinking and writing about the area in terms of how it relates to your business, how you serve the area, demonstrating expertise.
If you're unconvinced that this is worth doing, take a look at this page and this page. I spent a few weeks having in-depth conversations with the client to establish information I used to build a custom embedded Google map showing the areas he services in the East Midlands.
The client works in the property-surveying industry, so the written content on that page traced the history of the areas served in terms of house-building methods and style. Importantly, lots of important keywords were littered through the pages in a natural manner.
Think of applying a similar concept your website.
8. Services/products page
Ideally, we would create a general page about your services/products, linking off to a subpage on each specific service/product.
You're going to want photos/graphics/images and text to help describe what you do and/or sell.
Set expectations, prove your value, tell a good story and aim to encourage action.
9. Contact details page (including map)
Contact details are important. If you're a real business with a long-term outlook, publishing contact details including an address on every page of the site is a good idea.
An office, retail or industrial unit address is what is needed. Of course, if you're home-based, you'll want to use a virtual address instead.
An embedded Google map is a worthwhile addition to your website and normally used on the contact page. If you already have a Google My Business listing, the address on the site should match the address of the Google listing.
10. Affiliates, trade bodies page(s)
Quick story: I worked with a client who was and still, is affiliated with a well-known trade body in his industry. We put together a webpage about his business and the trade body in question, stating what it meant and what the significance of this is.
Well, someone found that web page through a Google keyword search. He had entered "sovereign approved damp proofing" and was looking for a local business.
You never know what people are going to search for, so it pays to be reasonably detailed in documenting such things.
11. Testimonials, reviews and awards page(s)
Do you have Facebook reviews? Google, Yell, Trip-Advisor, Yelp? Any others I've missed. Let your customers know, in case they're unaware.
It's a case of copying and pasting reviews to your site and then linking back to the original sources where they first appeared.
12. FAQs page(s)
What do you get asked the most? Is there a particular conversation you keep having over the phone or by email or in person?
I'm not saying those conversations shouldn't be happening, I'm merely suggesting you could address many questions on your site so that your phone line isn't getting tied by people asking the same thing over and over.
13. Copyrights, terms of use, disclaimer, privacy policy, insurance, licenses pages
Every website needs what is known as "boilerplate" text.
This is the stuff that typically resides at the bottom of the website (known as the footer area) and lets people know what you're about, what you're doing and where you draw the line between you and them.
Try too see this as a chance to build trust with those who need assurances.
Imagine a would-be customer combing through your site, weighing you up against a competitor. Think of those who would do their due diligence. And keep in mind some customers may be once bitten, twice shy because of a past bad experience with a rogue.
Depending on what industry you're in, how you take payment, and how you collect and use the personal data of individuals, your site will need information on one or more of the following:
Data protection authority registration number (ICO in the UK)
Privacy Policy (what you do with a person's data)
Cookie policy (what tracking is placed on a person's device)
Insurance (it's a legal requirement for some businesses)
Guarantees (a deal-breaker in many cases)
Licenses (waste disposal and food preparation to name two examples)
Copyright symbol and date (protect your words/images)
Optimize target keywords usage in content
14. Proofread content
Written content will benefit from a couple of proofreads. An associate, employee, partner or spouse might cast their eye over what you or someone else has come up with for the sake of objectivity.
Remember – we're using British spelling and grammar, so no "z's" in latinate polysyllabics. E.g. synthesise, not synthesize.
Your spell checker may disagree depending on what English language setup you have.
---
New Website Guide
New Website Guide