We are based in Ilkeston, serving the Derby and Nottingham area.
We supply a range of services to help small and medium businesses connect with their audience.
Mobile Friendly
Mobile responsive design is the future of web design and an ever increasing marketing trend.
A mobile optimised site displays differently across tablets and phones.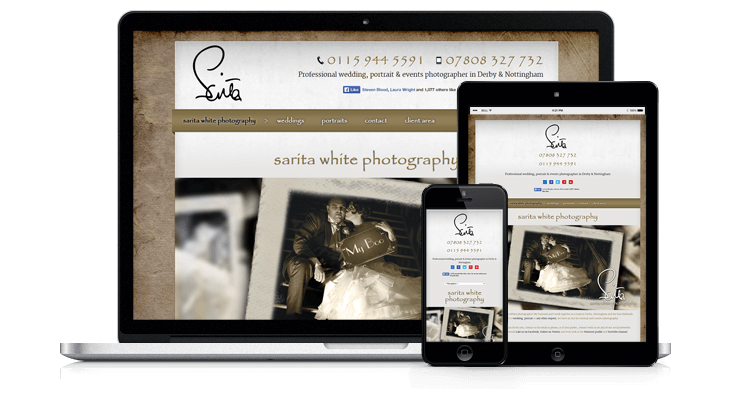 What you see on your desktop machine is different to way you would view it on a smaller screen.
Mobile responsive web design usually include at least three different layouts in a site.
All the sites we build are responsive.
HTML Websites
If you're looking to have a basic site not updated frequently, your best choice is to go for a static built site.
The only drawback with this type of site, is that if you want to update or change it, you'll need some web design skills.
In other words, you cannot edit it yourself.
If updating/changing the site is NOT important to you, this is a good choice.
Please note, this type of site is still a mobile responsive site.
WordPress Sites
If you'd like a self managed website, you should use WordPress.
This is a well known, powerful publishing platform ideal for anyone wanting to update the site content themselves.
It is almost like having a digital magazine.
You can add new pages easily and the design is taken from the template design we would have set up for you.
The website you are looking at now is a WordPress site.
Other platforms like Drupal and Joomla! are available but the barrier of entry is slightly higher and there is less support available the way there is for WordPress.
With WordPress, there's need to worry about HTML or CSS every time you want to add new content.
But if you do want to make major changes to the design/code, this will require some web site design knowledge and you will need to hire a professional to make those changes for you.
Legal Obligations
Your site needs a privacy policy and disclaimer accessible from all pages.
This is a legal requirement under EU law.
We make sure to create your site to include satisfactory "legal boilerplate" which will satisfy the marketing laws passed by Europe.
If you are thinking of using a different web design service, make sure they understand privacy disclaimers.
Also, it is mandatory under EU law to use a pop up notification bar on every page of your website informing visitors about the use of cookies (the data tracking software for measuring statistics on a website).
If you use Google Analytics, or social media buttons, you are using cookies, and must highlight this via the pop up notification.
A video has been put together giving an overview of website data and privacy disclosure conditions set forth by the Information Commissioner's Office (ICO).
To Buy or Rent…
When we build a site for you, we sell you the site for a one off fee.
Some companies will "rent" your site to you, which means you pay a monthly fee to cover hosting costs.
This is fine as long as you have the option to get access to all the site files and take it to a different web host.
However your website is built/supplied, someone is going to have to pay for server space to host it.
Many website "rentals" companies do not give you the option to leave their service and go elsewhere, effectively meaning you've built your house on rented land.
If you're locked in to a service and can't switch, this is not good for you. Always choose a supplier who has your best interests at heart.
Buying your website is like buying a property.

Renting your website is like renting a property.

You're always much better off buying/owning the site and having a copy of all the files on disk.
(By the way, we do offer a hosting service in addition to building and supplying your site. More about that in a minute.)
Website Design & Build: How Much?
We charge £25 per hour to build a site with an initial free consultation.
We will need to quote you based on your requirements for an accurate price.
All projects require a 30% deposit before work begins.
Every site we build is mobile responsive.
A mobile responsive static one page site starts at £250 including the deposit.
Your website will be supplied on a branded Ilkeston Web Design USB stick.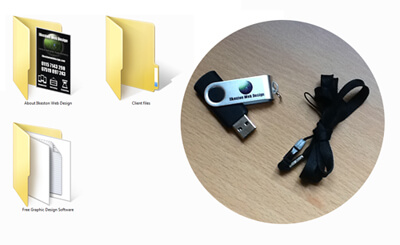 Other sites are charged based on an estimate and how much work is needed.
Hosting Service: How Much?
If you'd like us to host your website for you, the service starts at £10 per month and is charged by automatic secure direct debit using the PayPal payment gateway.

If you'd like to sign up for your own host after purchasing your website and having the files supplied to you by us, we recommend DreamHost.
DreamHost are considered to be one of the best hosts in the world. It is also very user friendly.
Video Consultation Sessions
One on one consultation via remote desktop screen share software can be provided free as part of the building of the website.
During the creation process we can use this software to demo the project and show progress.
These sessions are useful for something like a design discussion, a content marketing brainstorm or a web development solution to a problem you are facing.
Note: any consultation required AFTER the website project has been delivered and signed off will be charged for.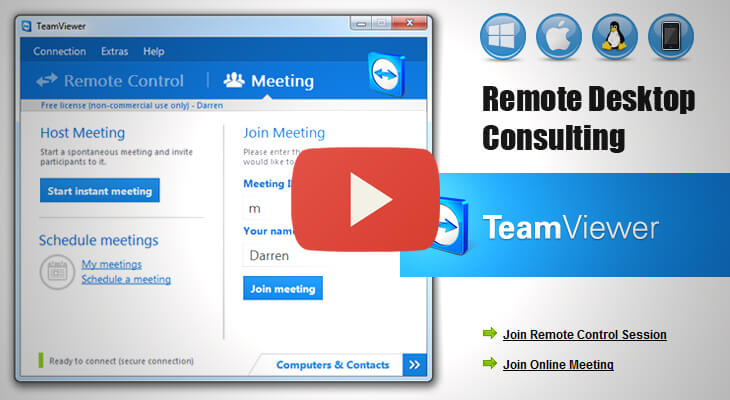 Personal Consulting Sessions
We can meet with you and provide learning and tutoring one-on-one. Find out more about personal consulting.
What Can a Website Do For Your Business?
Do you have a promotional or marketing strategy?
Can digital marketing fit your business?
Do you want to "talk" to your customers/clients and help them decide if you're right for each other?
A website is a business tool with lots of creative marketing opportunities
It is not just for generating leads
It is an effective method of communication and a way to leverage time
Read Our Reviews
Before you move on to the next stage, you might want to read some of the Google reviews given to Ilkeston Web Design.
Benefits and Features of Ilkeston Web Design
The next page examines features and benefits of our service. Click the link below to discover more about us: