Amidst the COVID-19 pandemic, businesses that are not absolutely essential must close with immediate effect. Google has added a "temporarily closed" button you can toggle on or off.
Here's a quick lesson on what Google My Business actually is if you don't know what I'm talking about. Have you ever performed a Google search for a local business or service, and seen the assorted local map listings?
They're among the top search results.
Those "listings" can be clicked upon, which are expanded into a full listing. These called Knowledge Panels, and prominently show opening times, reviews, opening hours, link to the website etc.
These listings are normally managed by you or someone else you've appointed. The listings are accessed through a free suite of business tools called Google My Business, where you can update business info, reply to reviews and more.
If your business actually is closed because you're self-isolating or not able to fulfil any work, it is wise to reflect these unique circumstances on the Google Knowledge Panel listings. Instead of showing the normal opening hours, they will be replaced with a message letting the general public know you're not available.
For example, right now, HSBC in Ilkeston is temporarily closed.
I know this because I've been visiting the branch most days only to see the same "sorry we're temporarily closed" sign on the entrance.
But when I do a local search for HSBC, I'm being told it's open and that it closes at 4:30pm.
This is not so. It is confusing to many people in the local community.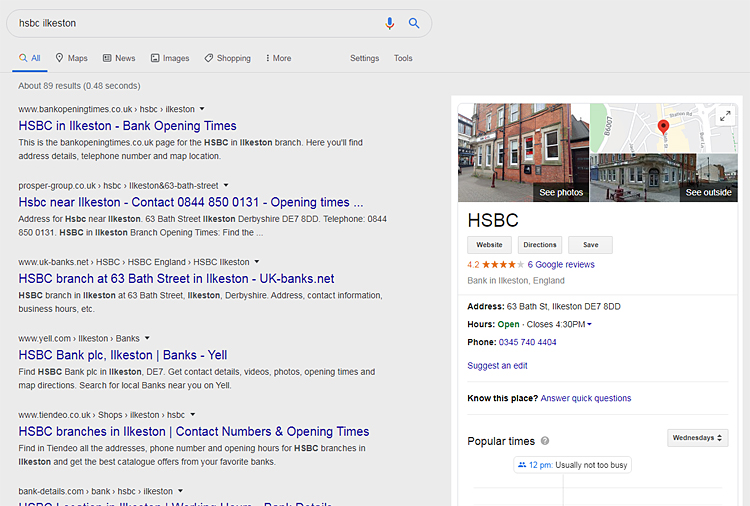 If your business is closed right now, log in to your Google My Business account and locate the "Info" tab as shown below.
Upon clicking "Info", you'll be presented with the main business dashboard. Over on the right side, you'll see the following buttons: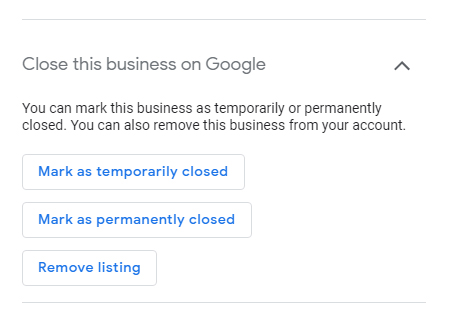 Click "Mark as temporarily closed" and you'll see the following message:
Once society resumes normal service, it may be that this feature is allowed to stay, as it could be useful in future events of unavailability or just being indisposed.
Please note, your actual website will not be affected in any way with this Google My Business feature. If you need to put out a message on your website, you'd have to edit it.
Since most people are likely to search online and see that your marked "closed" it's unlikely they will get as far as visiting your website, even though it will remain functional and available to the public.