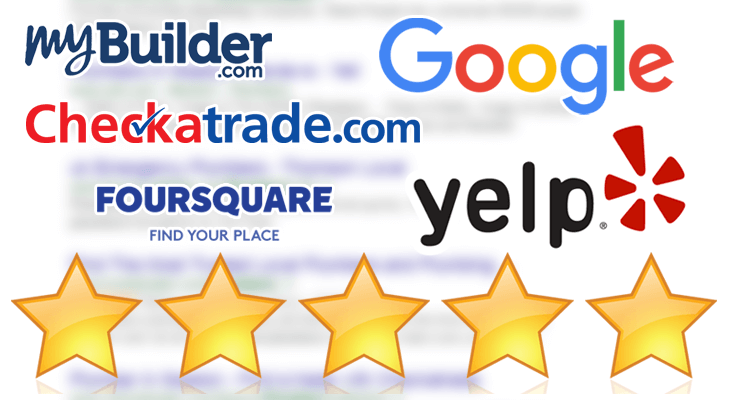 We know that 88% of consumers turn to review sites to find local businesses and 4 out of 5 users visit Yelp because they intend to buy a product or service.
If you're not actively building a repository of online reviews, you're missing out on a powerful marketing opportunity called "social proof".
Social proof is the phenomenon of customers not trusting what a business says about itself, and instead looking for conflicting or corroborating evidence elsewhere online.
In other words, do your claims seem true according to other people?
I mean, let's face it, a business is nearly always biased when they create content for their own website. Whether they realise it or not, they're publishing propaganda to improve their own image and be attractive to buyers.
To anyone with an old-fashioned view of marketing and advertising, don't keep shouting from the rooftops about how great you are. Begin deferring to third parties (online reviewers) to give their account of their experience with your business.
Warning: yes, misrepresentation, defemation and foul play in this area of online marketing has been well documented. It's an unfortunate downside which I'll come to in a few minutes!
88% Of Consumers Trust Online Reviews As Much As Personal Recommendations
Increase in ranking
Let's talk about the connection between positive online reviews and how your business information performs in search engines.
It has been anecdotally reported that reviews increase website ranking, especially if you use Google reviews.
Google reviews are part of the Google My Business suite, which gives the business owner a set of free tools for promoting their products and services for free directly in the search results.
How does this work? Let me show you…
When a prospective customer performs a search using local keywords (e.g. "24 hour plumber ilkeston"), it returns a set of results matched to that search.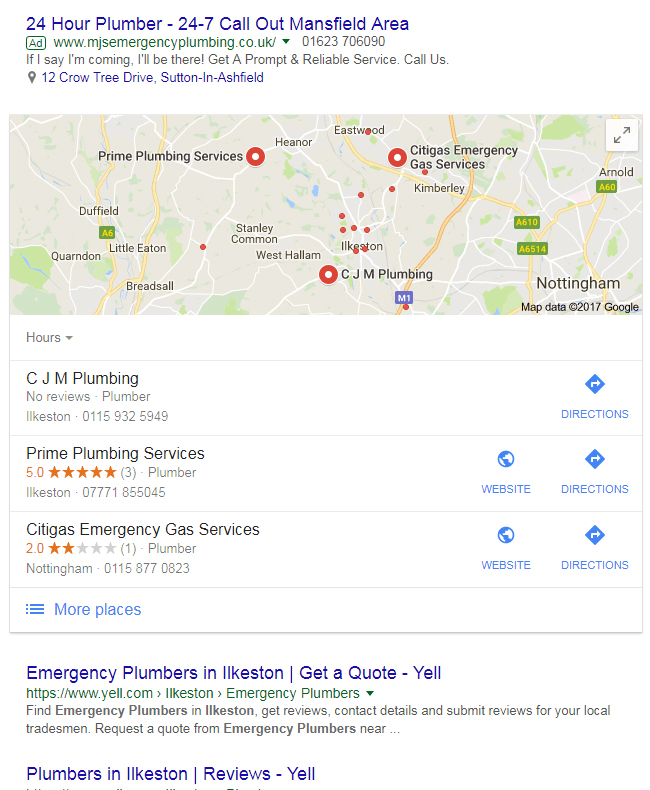 A typical Google search engine results page with ads at the top, followed by Google My Business listings with reviews.Those reviews can be clicked on and read individually.
By all means, copy these reviews to your site and then link to the original source of the reviews. The point is to demonstrate you didn't make up the reviews yourself.
To reiterate once more, Google favours third party review sites. Just publishing a happy client or customer's comments direct to your website is not enough. If someone emails you positive feedback, try and get them to open a Google account and leave their review.
Fake reviews
Of course, review platforms have suffered from both fake and positive reviews, commissioned by competitors or businesses. It's not the end of the world though, because increasingly savvy consumers are learning to spot these, but, by and large, reviews work pretty well.
Sometimes a competitor may leave a one star review to try and drag down the overall rating of your business. It tends to happen on TripAdvisor, which has its own unique reputation for scandal.
Fortunately, Google Reviews give the business owner the ability to respond to a negative review. With your "right to reply" you have an opportunity to mend any fences that might have been damaged.
Remember, others are silently reading, judging you more on your reactions than the original reviews.
Even if you know the review is fake or has arisen from a rival, this is your chance to demonstrate a reasonable, mature, business like approach in the face of possible libel.
Too good to be true?
If you suspect another businesses has reviews that are made up, check out the social media accounts of the business. Visit their website and look for links to social accounts, and then go through their posts. Are they having meaningful conversations with others? Are they answering questions and helping? Use your wits and best judgement to discover who the people behind the business are.
Now imagine you are that same business. Do you have good reviews, and do you have an online footprint that supports what the reviews say about you? Consumers have the means to dissect your online presence and get to the truth.
How to (and Not to) Solicit Reviews
You don't necessarily need to widely advertise that you want to be reviewed. In fact, you must not in case you attract fake reviews or trolls saying untrue things about you.
Never, ever offer incentives in exchange for a review. Do that, and it will call the validity of your all your reviews into question.
It is often best to approach people who you know for fact are very happy with your product/service and start there. This is the low hanging fruit in terms of getting positive feedback.
It's been said that a selection of mixed rating reviews is not a bad thing.
Asking for reviews
Build trust, use your voice, or record a talking head video politely asking for reviews.
Show how to do it and be availble to help. Familairise yourself with the review process – it's crucial to your business reputation online
It's advisable to create some sort of guide or tutorial to help customers/clients write a review for your services.
Warnings
Keep in mind that the number of reviews and number of stars improves click through rate which equals more traffic. This is a straightforward win for you.
Beware of the Google Reviews criteria in their terms of service. It means that Google Reviews can be deleted.
Certain words in reviews can trigger their spam filter to remove a genuine review just because the reviewer made an innocent mistake, such as having poor spelling, no profile photo, little account activity etc.