In this first SoundCloud podcast episode I talk about a few things that local businesses can use to create free audio podcasts for personalised marketing.
Just press play to listen. If you have the SoundCloud app on your iPhone you can plug in your headphones and listen to it from your pocket.
In This Recording
Part 1: SoundCloud, Microphones, iPhone, Recording, Apps
Part 2: Five Small Biz Podcast Examples
Part 3: Concerns, Questions, Answers
Watch YouTube Video
The video is a visual demonstration of what was talked about in the audio version.
The video has many visuals and screenshots to explain the various options available.
It is quite long, so if you don't want to look at the screen for 35 minutes, you could listen to the just the audio on the SoundCloud player.
Why Podcast?
Audio podcasts are an accessible, easy to consume format allowing you to educate your audience about who you are and what you do.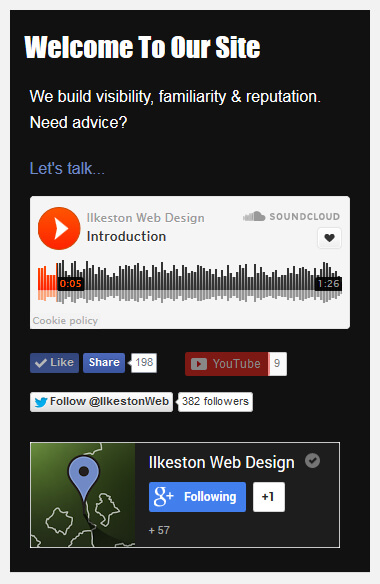 One of the keys nowadays in business is who you are.
A lot of the advertising and marketing in the world today is badly done and wastes money while annoying people.
Easy Listening
Listeners can download an mp3 or click the play button on Soundcloud and quickly learn about the products or services you offer.
Audio is very passive and doesn't demand as much attention as reading or watching video.
Full Control
Podcasting is different to a conventional radio adverts because you control the production 100% and you don't have to pay for voice artists or air time.
Audio podcasts can be as long or as short as you want. It's a chance to be more authentic than conventional broadcast advertising.
Try it Free
SoundCloud is a way to get started and see how you like this style of marketing. If you wanted to do regular, longer podcasts, you would be much better off using a proper paid media host.
Another thing you can do is give away your audio recordings on free USB flash drives.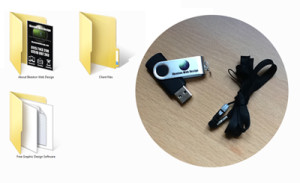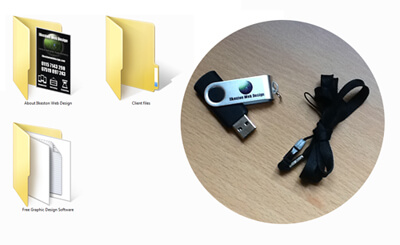 Update: SoundCloud Now Gives 3 Hours Free
You can upload music or spoken word to SoundCloud.
SoundCloud offers 2 hours 3 hours of recording time under the FREE account. That's 180 minutes.
This is pretty impressive because this free account means you could do 36 five minute podcasts and fit that into the the 3 hour limit.
I think the free Soundcloud account is fine for a beginner. However, I do not think SoundCloud is good for a long term strategy. What if SoundCloud shuts down or gets bought? Twitter wanted to buy SoundCloud in 2014 but the deal fell through. So, do not build a serious podcasting series on Soundcloud – go for something like LibSyn.
If you have idess for lots of good quality content for podcasting, get yourself a proper host for hosting regular, long form shows. I recommend something like LybSyn which works out as better value than SoundCloud.
Remember: keep everything you record backed up on an offline storage media device. If you become a client we will supply you with a USB stick for sending files to us.
Microphones
You can use a USB headset mic and get very good quality sound
If you want to use a higher end mic you could get something like a Blue Snowflake USB mic for around £60
The iPhone and iPad acts as very good sound recorder
Built in iPhone mic is good but you can buy good quality low priced plug in microphones which insert into the 3.5mm input
There are lower budget options such as a hands-free earphone and mic kit which works well too
Recording to SoundCloud
You can get the FREE SoundCloud app together with the FREE AudioCopy app on your Apple device for recording
 You can record directly into SoundCloud via your browser, iPhone or iPad
You can upload mp3s you have already edited
More Features of SoundCloud
SoundCloud lets you set your tracks as private or public
You can either stream the sounds or download the sound file to a computer or device
There are the social sharing options too like Facebook, Twitter etc
There's a cool commenting feature where people can leave a time stamped message on your SoundCloud recording
You can embed your recording using the SoundCloud player in your website
You can set up a playlists
Your SoundCloud profiles are likely to get indexed by the search engine if you use good keywords, proper descriptions and build a community
Best Practices for Podcasting
Try not to leave gaps or silences (if possible)
Do not worry about mistakes TOO much
Pick a specific topic to talk about
Help people solve problems or understand things
Shorter episodes are a good way to start off
Use a decent microphone
Say something worthwhile
Be family friendly, speak clearly and never bad mouth other businesses
Know your audience
Avoid putting on airs and graces
Do not pretend to be something you're not
Social Media Warning…
SoundCloud is a social media site and social media sites get bought, change direction and sometimes shut down.
Keep copies of your podcast episodes backed up somewhere safe.
As great as SoundCloud is, you should never rely on social media websites. You have no real ownership when it comes to social media.
For serious podcasters, there are actually better options for media hosting such as LibSyn.
Sound and Music for Jingles
If you want to find out about using music, sounds, jingles etc you need to make sure you don't infringe copyright.
There is some great advice from Cliff Ravenscraft aka PodCast Answerman. You can listen to some selected podcasts of his dealing with the sound/music question: http://podcastanswerman.com/?s=royalty+free